Here are a few photos from my performances over the  years – from a 2013 live Ottawa Valley Heritage radio show with the Clyne Brothers to competing in the 2015 finals at Pembroke.
Here is a series of photos from 2016 and 2017.
Photo highlights from 2015…
I will always remember my performances on Parliament Hill, first when I played for MPs at a Parliamentary committee and then when I played at a reception – both in connection with new legislation proclaiming a National Fiddle Day. I also performed at a country night fundraiser – with a full country band – and in the cold of a local sugar bush for maple festival. In 2015, I competed in a number of fiddle competitions, including twin fiddle with Marley Mullan and as a finalist at the Metcalfe Fiddle Competition.  I performed again this year at Almonte's wonderful summer festivals – Celtfest with Anthony Vale and Puppets Up! with Mom. Lastly, this year I was fortunate to get a new fiddle, made by luthier Michael Wrona.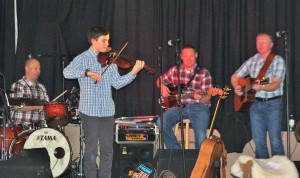 Photo highlights from 2014…
I played at many memorable events through the year. There was the Valley's Fiddle Fiesta in Arnprior (photo with legend Bruce Armitage); the Young Awards Gala (seen playing with good friend Aaron Rudyk); entertaining at Puppets Up!; appearing on the Renfrew Fair's Valley Stage; Mill Street busking and on the main stage of Celtfest. (You can click on the picture to see an enlarged copy of the photo.)
At all times, I love jamming with family and friends. Here I am with cousin Megan and Uncle Bruce in Nova Scotia. Every Wednesday night I also enjoy playing as a regular at a Celtic jam at the Naismith Pub (that's Cindy Thompson in the picture!).  The third picture below here is of me playing at my cousin Chance's wedding – that was a wonderful time.
Photo highlights from 2013
My first performance in Almonte… the Save Our River Benefit Concert on June 15 to a sold out audience at the Almonte Old Town Hall.
Thank you to Nathan Sloniowski for the opportunity to play in his band. I enjoyed my solo "Cajun Fiddle" with the amazing Terry Tufts accompanying me. (Thank you also to Brent Eades who photographed the fun!)
One of the most fun annual gatherings in Almonte is its International Puppets Festival the first weekend of August. I had a great time busking with my Mom on Mill Street during the event.
At the Grand Masters Fiddle Camp I was honoured to be a student of one of Canada's finest fiddlers – Calvin Vollrath. I learned a great deal from this master and today love playing some of his original tunes.
In October I joined the Clyne Brothers on a live performance on 98.7 – Renfrew's Ottawa Valley Heritage Radio station.  Here is a picture of the band on the station's studio stage and another of me and all the band members.
Here are some great Niagara memories:
Performing with the Fitzgerald Family for their encores was a thrill for me. This May 2013 evening I was part of the opening act with my good friends Mike Mattie and Cassandra Swan (along with accompanists Natalie Picula and Michel Mattie).
Here are some of the musicians at my surprise 12th birthday party jam (December 2012).  I miss really playing with my friends from the Niagara Olde Tyme Fiddle Club.
Wonderful memories of the Wally Knash Christmas Concert (December 2012)