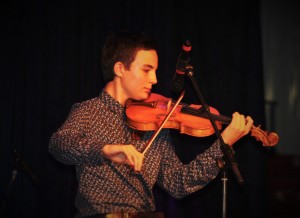 The last few weeks of my summer was excellent and full of fiddle music! Through the last week of August I attended the Grand Masters Fiddle Camp where I had Calvin Vollrath as an instructor. I learned so much that week and immensely enjoyed my lessons and the time jamming with my instructors and friends! The camp was truly awesome this year.
On Labour-Day Weekend, I competed at the Pembroke Fiddle and Step Dance Competition – the largest fiddle contest in Canada (accompanying photo). I competed in the 18-and-under category, which is an extremely tough category with its 23 registered entrants. I was very pleased with my results – being 14 and at the younger end of this age bracket, and making it to the finals. Despite being incredibly nervous, AND breaking a string 30 seconds before going on stage, I pulled off what I thought was a solid performance, coming home with a finalist "top ten" trophy and $100!
These events combined to make a great end to the summer! Now I'm looking forward to immersing myself back into my music classes and academic studies at Canterbury High School.