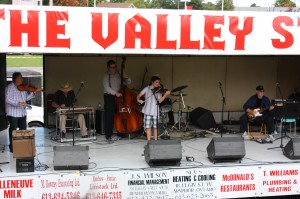 Saturday, I played on the Valley Stage at the Renfrew Fair. There was a fantastic group of musicians – a full house band – backing me up. I was lucky to have on stage with me one of the Valley's favourite fiddlers, Brian Hebert.
Here is a photo of me with Charlie Kitts, an entertainment legend in the Ottawa Valley and MC of the show.
Thanks to Charlie and Renfrew Fair's manager Kent Smith for giving him the opportunity to entertain on The Valley Stage!